Edith L. Slocum Elementary School
Hours: 9:05am - 3:35pm
Thursday June 22nd
11:05 dismissal
Last Day of School
Friday June 23rd.
11:05 dismissal
Bee a part of the solution..
Become a member of the Slocum PTA..
Please refer to the PTA Calendar at the top of the page on the Navigation bar for a complete list of PTA meeting dates .. Also you will find Dates of upcoming Events and Activities for our school!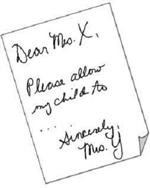 Need to communicate with your child's teacher? If you need to send a note to school we've tried to make it easy for you! Print and complete the form attached and send it with your child.

Note To School


Don't forget to check the Virtual Backpack
Misplaced a flier sent home from the school?
Just go to Slocum's Virtual backpack and find all forms and fliers that were sent home! Located under District links.
NEED HELP DOWNLOADING:
| | |
| --- | --- |
| | pdf file: You need Adobe Acrobat Reader (version 7 or higher) to view this file. Download the free Adobe Acrobat Reader for PC or Macintosh. |
| | doc file: You need the Microsoft Word program, a free Microsoft Word viewer, or a program that can import Word files in order to view this file. To learn more about the free Microsoft Word Viewer, visit the Microsoft Word website. |
| | docx file: You need the Microsoft Word program, a free Microsoft Word viewer, or a program that can import Word files in order to view this file. To learn more about the free Microsoft Word Viewer, visit the the Microsoft Office Compatibility Pack. |

SLOCUM PTA
Edith L. Slocum Elementary
2460 Sycamore Ave.
Ronkonkoma, NY 11779
631-467-6040